The Great Northern Emu Parade
VAE Group are working with Hutchies on the Health Facilities Upgrade project on the beautiful Thursday Island.

Together with Hutchies, and the Thursday Island (TI) Bowls Club we held the first Great Northern Emu Parade yesterday afternoon with around 40 people in attendance.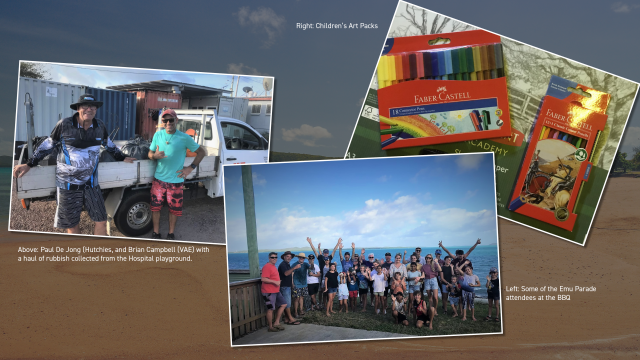 Hutchies kindly sponsored and supplied a BBQ for the hungry troops following their clean-up efforts.

We provided fantastic art supply gift packs to all the kids that attended the Emu Parade, they were all very happy to receive these gifts for their efforts.

A big thank you to all the contractors who donated their time to help and also to all the locals that were involved.
The highlight for me, was to witness the children's enthusiasm. One local young girl melted our hearts when telling us that she wanted to be involved so that she could help the turtles. A very positive message coming from the future generation.

Greg Carter | VAE Site Manager

---